Last Friday I took a trip to Philadelphia with my friend to see Thursday at the Trocadero. This was my first trip to Philly for a concert since probably 2004 when I went to see Dashboard Confessional, Thrice and The Get Up Kids in the Spectrum.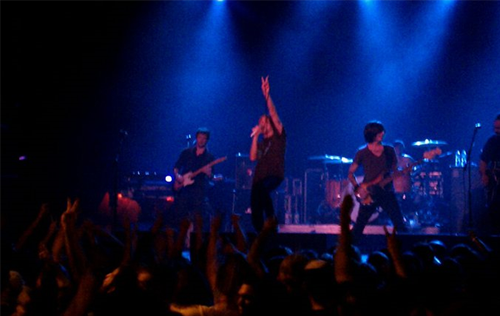 I have, however, been going to Philly a little more often lately for Union soccer, so I'm more comfortable with the city than I've ever been. But since my car was being whacky, my friend drove. We got down there and parked in a shady parking garage and went over to the venue. I gotta say, the Troc is a cool place.
It's a really old building, that, despite being the setting of countless punk and metal shows, manages to hang onto the styling of its roots. There are decorative facades surrounding the large, high ceiling stage, with a balcony area that serves as the 21 and over drinking area. The crowd was just about the perfect size, with it not at all feeling empty, and yet not too crowded that you felt stifled.
The opening acts were forgettable but I really did enjoy Thursday. They mixed up some of their really old stuff in with some newer material, and proved to me that they can still hang with the best in this genre that they helped define over a decade ago.
Later that night I met up with some friends who live in the city and we went to a bar called Nodding Head Brewery, which served a bunch of microbrews, including this one hefeweizen that included some green Woodruff syrup. I personally was not a fan of that, but all the girls seemed to go nuts over it. I tried the Grogg as well as the 60 Shilling, and both were excellent.
The next day we decided to walk around and do the touristy things that nobody from the city ever does. This included going over to Love Park, as well as to the art museum to see the Rocky steps.
It was a fun weekend. 🙂