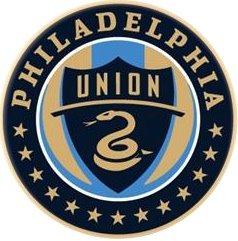 The team won't officially announce it's name and logo until May 11th, but the internet has already uncovered the identity of the new Philadelphia soccer team! The Philadelphia Union, hearkening back to the famous "Join or Die" political cartoon by Ben Franklin. I am so totally excited about this.
sccaflagger74 from the Big Soccer Forums posted these screenshots he got from an apparel shop that accidentally put some Union gear on sale. It looks like they have really captured the tradition of the city and it's importance (notice the 13 stars), without falling on the old standby of the liberty bell. This is a great logo, and the name just works. I had originally really expected them to go with AC Philadelphia, but this whole combination sure exceeds my expectations.
I get the feeling this site was not supposed to put this merchandise on sale yet. It's since been removed from the site. Woops!
The scarves look fantastic!
More details to come!!
Here's a closeup of the scarf:

I've created a Philadelphia Union Wallpaper available here! 🙂